Señor Pila, Pintor de Barro, Tonala, Jalisco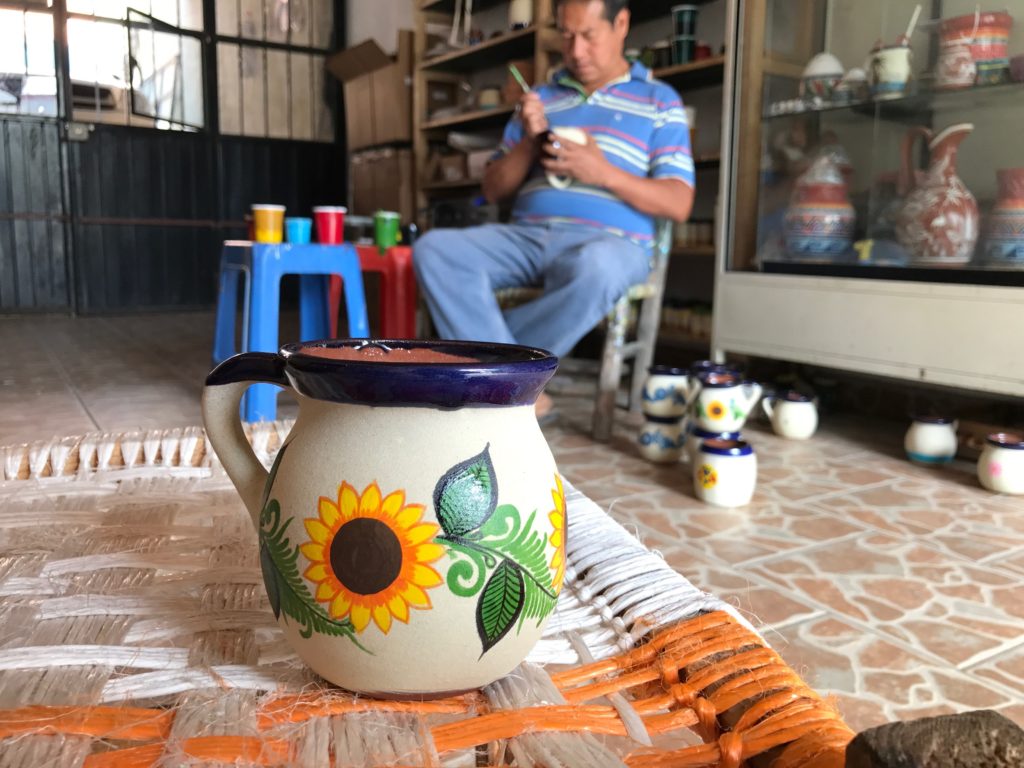 We met Señor Pila in Tonala, Jalisco on the search for quality goods.  He is a 4th generation artisan and his focus is on painting barro (clay pottery) which is produced in Tonala.  His skilled artwork was impressive and his desire to keep the tradition of artisans in Tonala alive was the motivation for what he does every day.
Through Señor Pila we were able to learn the different painting styles from Tonala and around Mexico as he demonstrated a few for us at the time of our trip.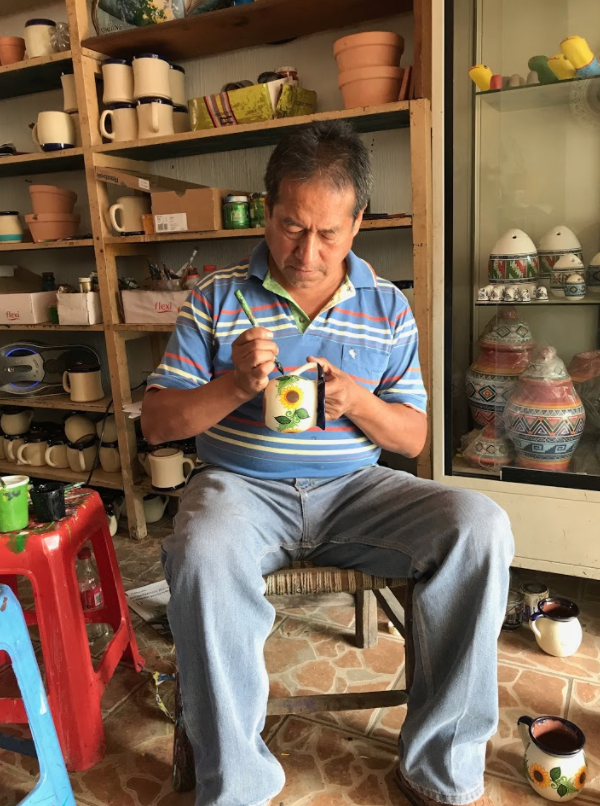 His love of animals and nature is evident in some of his work and he prides himself on keeping his family's tradition alive. He showed us these beautifully painted sunflower mugs that had such a bright and "good morning" feel to them that we knew it would be a great addition to our Cacao Box.
Why would a artisan from Mexico paint a sunflower (girasol)? Not many people are aware that the beautiful common sunflower or girasol is native to Mexico (and was probably domesticated there as far back as 2600 BCE).  For the Mexica (Aztecs) it was a symbol and metaphor for war, a key offering to the war god Huitzilopochtli, and was depicted on the shields of several important deities.
Known in Spanish as girasol or mirasol, the sunflower has long been used in Mexico – like so many other indigenous plants – as an ornamental flower, as a food source (the seeds can be eaten fresh or ground up and mixed into the traditional beverage atole), as medicine, and as a sacred symbol.
Centuries-old dried remains of sunflower seed-containing fruits have been discovered in offerings at the main Aztec Templo Mayor site in Mexico City – evidence for the plant's sacred importance to the Mexica people.
Just as the flower has two names in Spain, it has in Mexico too: both the Mexica centuries ago and the Nahua today (descendants of the Aztecs) refer to the flower in two ways:-
chimalacatl ('shield-reed'), and
chimalxochitl ('shield-flower')
These names, a physical description, two illustrations, and confirmation that the flower was an American 'original', was cultivated in fields, was consumed by local people, and was used to 'soothe the chest' and treat burns or stings, are found in the medicinal herbal compiled in 1615 by Francisco Hernández, court physician to King Felipe II of Spain.
So we hope you will enjoy and appreciate not just the quality of Senior Pila's artwork, but also understand the significance the sunflower has to Mexico.