Picnic
Spring has arrived and what better way to celebrate than to go outside and enjoy some sunshine and fresh air. Your MyCajita Cobija de Chenille is soft enough to cuddle up with yet strong enough to be used for a picnic or beach day. This hand-woven blanket comes from Tlaxcala, Mexico, long known for their textiles and fabrics. It's made entirely by hand on large wooden looms and incorporates traditional designs with modern colors.
We've also included a blanket belt to carry your cobjia around. The 100% genuine leather is from Leon, Guanajuato and was designed, hand cut and stitched specifically for your MyCajita Cobija. It comes in burgundy or black with nickel finishes. You can throw it over your shoulder or carry it by hand, but either way, you'll be in style and ease!

 What's in the box:
(1) Cobija de Chenil (Chenil Blanket)
(1) Cinturon de Piel (Leather Blanket Belt Holder)
 
Carry with ease:
 
COBIJA DE CHENIL (Chenil Blanket)
This blanket blends new trends with traditional designs and is a MyCajita exclusive. The chenille fabric is a cotton/acrylic blend that gives it a rich softness that you'd find in major department stores, but it's made entirely by hand using traditional wooden looms. The threads are woven using this traditional technique that was introduced with the colonization of the Spanish. The designs and change of colors all have to be done one by one in a painstakingly slow process, while the continuous stripes of color allow the weavers to thread the same colors from end to end. The blanket measures 80 x 49 and is a 70/30 cotton/acrylic blend.
CINTURON DE PIEL (Leather Blanket Belt Holder)
This blanket belt was specially designed by MyCajita and made with the famed leather of Leon, Guanajuato. The leather is conditioned and dyed by hand, then cut to correct length and assembled and stitched all by hand. It comes in burgundy or black and the buckles and struts are all a tarnished nickel finish. The belt is meant to make carrying your blanket a breeze, either carry it by hand or swing it around your shoulder. The adjustable straps allow you to utilize this for other items in your house: another blanket, a pillow, even a yoga mat.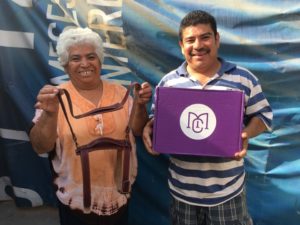 Artisans: Catalina Castañeda Pereyda & Benito Lona Castañeda
Learn more about Catalina and Benito, also see how they make these beautiful custom leather blanket holders.
View Post: https://www.mycajita.com/blog/?p=9771