Velas Box
Who doesn't love the smell of flowers in their house? MyCajita's Vela's box features three beautiful hand-carved Barro Negro candles, each filled with a different scent of Mexico's most beloved flowers, and a matching tray to display them on.
Barro Negro (black clay) dates back to 500 BC and was a traditional craft of the Zapotecs and Mixtecs of the central valleys of Oaxaca. The tradition continues today, just about an hour south of Oaxaca City in the town of San Bortolo Coyetepec. This is where Doña Esther Real and her family mix the unique clay that comes from their fields, mold it into forms and hand cut beautiful designs into them. MyCajita collaborated with them to create this exclusive and beautiful candle and tray set, intricately designed with flowers.
To fill your candles, we paired up with Amor y Flor, out of Los Angeles, California who create high-quality non-toxic candles that contain all-natural soy wax, essential oils, premium fragrances, and cotton-braided wicks. Your MyCajita candle set has three selected fragrances from Amor y Flor called, "La Rosa", "Mariposa", and "Cempasuchil", together they form a bouquet of flowers from México for everyone to enjoy!

 
What's in the box:
(1) Barro Negro Rose Scented Candle
(1) Barro Negro Honeysuckle Scented Candle
(1) Barro Negro Cempasuchil Scented Candle
(1) Barro Negro Candle Holding Tray
Barro Negro Candles
The Barro Negro candles come from San Bortolo Coyetepec, Oaxaca and are each hand-carved before going through their unique firing process, a technique that leaves the clay uniquely black and shiny without any paints or chemicals. They feature intricately hand-carved flowers around the outside and are filled with an all-natural soy-based wax candle that contains zero toxins and dyes. The matching tray is carved in a floral pattern and protects your furniture or surface when the candles are lit.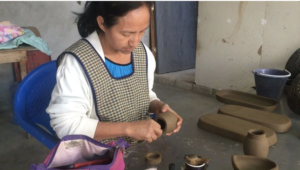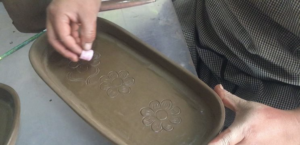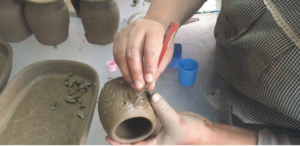 Each set of these barro negro candles contain three unique scents. These scents are a homage to the beautiful and unique flowers that grow in México.
"La Rosa" – The traditional rose is a must for its deep roots in Mexican culture and homage to the Virgin Mary.
"Mariposa": a sweet mix of honeysuckle and jasmine. The honeysuckle's bright orange flowers attract hummingbirds and when boiled produce a bright red or royal purple dye that has been used for centuries in traditional woven fabrics.
"Cempasuchil": aka Marigold, is widely known as the flower to celebrate life after death but was also used by Aztec nobility in headdresses and is part of an old Aztec legend of love and ancient gods.
Vela's box is a bouquet of Mexico for your home!
Watch how these amazing artisans create your barro negro velas and also learn more about Doña Esther and her family business: Click Here

Add these amazing barro negro accessories to your order!
Barro Negro Necklace
Non-Member Price:$20
Member Price: $18
Heart Shaped Barro Negro Jewelry Box
Non-Member Price:$20
Member Price: $18