Bolsa Box
Celebrate this month in style with your very own handmade Oaxacan Tote bag and Leon leather wallet. The Oaxacan Tote bag started off as a humble shopping bag for large market purchases and utilized recycled plastic to make them durable and affordable. They've come a long way from there and are now the "hot" fashion statement. The long handles allow you to carry or throw it over your shoulder. The design and color combinations have been perfected to allow its use for a casual day or a night out on the town. Upgrade your bag and enjoy an inside liner with 2 pockets, a magnetic clasp, vinyl handles, and a beautiful tassel/pompom. The accompanying leather wallet comes from Leon, Guanajuato and has a beautiful sunflower motif on it. Its bright yellow color compliments the engraved sunflowers and brings homage to this native plant of Mexico. With many pockets and even a small mirror inside, this wallet will become your go-to case for all your important cards and things.

 What's in the box:
(1) Oaxacan Bag (Size: 13.4 in x 13.4 in x 4.7 in)
(1) Leon Wallet

Imported from Leon, Guanajuato
Oaxacan Tote Bag
These Oaxacan Tote bags are very labor intensive and many people work in different stages to get to a finished product. Doña Nicolasa Lopez and Don Jose Hernandez of Santa Catarina Adequez, Oaxaca (2.5 hours outside of Oaxaca de Juarez) are the principal weavers of the Tote bags and have been doing so since a young age. This is their primary way to support themselves and their 4 children. Alfredo Salmoran Jose, Lucia Rojas Mendoza, and Manuel Santos Vasquez are also involved in weaving Tote bags but also focus on cutting, stitching, and bonding the inner lining, the Tote bag handles, and the tassels/pompoms. They are all brought together by Alma Cruz of Ox Arte, a designer, and social worker who is always seeking ways to bring economic opportunities to the impoverished communities where she herself was born. This project is directly supporting their community project to raise money to build a school for Santa Catarina Adequez, a small mountain community of 500 people. We are proud to work with her and support her projects.
Become a MyCajita member today and receive this amazing box experience. To choose a specific color option when you join as a member, send your order confirmation number and the color option desired via email to hola@mycajita.com.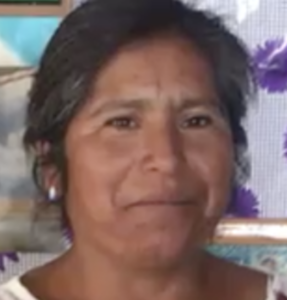 Artisan: Doña Nicolasa Lopez
View a short clip of Mrs. Lopez Cruz weaving a Oaxacan Tote bag in the related post.
View post: https://www.mycajita.com/blog/?p=9873
Leon Wallet
This beautiful and bright yellow wallet is handmade from Leon's finest leather and features a stunning relief of Sunflowers, engraved directly onto the leather. It has room to store cards, money, and even has a small mirror. The leather is conditioned and dyed before being cut into shape. The leather is then engraved with the design, pulling and stretching the leather till they design is set. Leather designer Nallely Rocha Suchil and her husband, Roberto Rocha Gonzalez, own a small leather making store in Leon, Guanajuato. Nallely designed these wallets herself after her love of flowers and bright colors. Her husband and another family member, Paco, are in charge of cutting, sewing, and imprinting the wallets. The leather is 100% from Mexico, and the design is a MyCajita exclusive, you won't find this wallet anywhere else outside of Nallely's store in Leon, Gto. This family business supports their 4 children and Paco's family as well.

Upgrade your Oaxacan Tote bag for only $18!! Enjoy an inside liner that boasts 2 pockets and a magnetic clasp to keep your things organized and secure. Your upgraded Tote bag also comes with vinyl leather handles (made of recycled material) to give it a chic look and a comfortable grip. We've also included a colorful churro (tassel) that you can mix and match to give your bag a different look. (Check out the other colors and styles on our shop!)
What's included in the upgrade:
Inside lining (lining color will vary)
Vinyl handles
Magnetic clip enclosure
A tassel

*Upgrade is available only to subscribers who did not skip and customers who purchased the Bolsa box.*